Home > Metro-Urban Institute Conference 2018
Metro-Urban Institute Conference 2018
Faith and Community Collaboration

REIMAGINING FAITH AND COMMUNITY COLLABORATION IN THE TWENTY-FIRST CENTURY
Pre-conference: Thurs., May 10, 2018
Conference: Fri., May 11 - Sat., May 12, 2018
Pittsburgh Theological Seminary
616 N. Highland Avenue
Pittsburgh, PA 15206
CONFERENCE DESCRIPTION
The conference will be an opportunity for members of the faith, business, governmental, and academic communities to hear keynote speakers and workshop leaders share their expertise in addressing issues of social injustice in a variety of contexts, from the local to the international. Participants will also have the opportunity to engage in dialogue and strategies for addressing areas of social justice, social empowerment, economic empowerment, and community engagement. We will also honor those who have worked tirelessly toward the transformation of communities near and far at our Gala on Saturday evening.
REGISTRATION INFORMATION
Registration

OTHER WAYS TO PARTICIPATE
Sponsor
Interested in being a sponsor for the upcoming conference? Please contact Brenda Henry for more information on how you can support the conference. Already have sponsorship information and looking for a way to electronically submit your donation? Then please submit your payment online.
Exhibitor
Your organization may register as an exhibitor for table space during the conference to network and share your programs with attendees. Exhibits will be open Friday, May 11, from 5:00-6:45 p.m., and Saturday, May 12, from 11:45 a.m.-12:45 p.m. Your organization may send up to two representatives.
Exhibitor Costs:
1 6-foot table (skirted) and two chairs - $30
1/2 table (skirted) and one chair - $15
Optional meal package (Friday dinner/Saturday lunch) - $25
Online Exhibitor Registration coming soon!
KEYNOTE SPEAKERS
The Rev. Dr. Deborah Flemister Mullen
Associate Professor of American Christianity and Black Church Studies, Emerita, Columbia Theological Seminary, Decatur, Ga. (2010-2017)
The Rev. Dr. Deborah Flemister Mullen served as associate professor of American Christianity and black church studies, and vice president for equity, diversity, and inclusion at Columbia Theological Seminary. She previously served as dean of faculty and executive vice president from 2010-2016. Prior to Columbia, Dr. Mullen was on the faculty at McCormick Theological Seminary for 21 years, serving for 10 years as dean of masters programs and five years as the founding director of the Center for African American Ministries and Black Church Studies. Dr. Mullen's research and teaching interests include the intersection of church and society, faith, and public life, with a particular focus on matters of race, sexuality, and culture. Dr. Mullen is a seasoned academic administrator and theological educator having spent the past three decades fulfilling her vocation as an ordained teaching elder of the Presbyterian Church (U.S.A.) within the church and the academy.
Dr. Mullen received her bachelor's from the University of Rochester, her Master of Divinity from Colgate Rochester Divinity School, and her doctorate in history of Christianity from the University of Chicago. She has several publications, including "From Sideline to Center: Teaching and Learning for a Racially and Culturally Diverse Church" in Shaping Beloved Community: Multicultural Education (2006).
The Rev. Dr. Otis Moss III
Senior Pastor, Trinity United Church of Christ, Chicago, Ill.
The Rev. Dr. Otis Moss III built his ministry on community advancement and social justice activism. Dr. Moss spent the last two decades practicing and preaching a Black theology that unapologetically calls attention to the problems of mass incarceration, environmental justice, and economic inequality. Moss is part of a new generation of ministers committed to preaching a prophetic message of love and justice, which he believes are inseparable companions that form the foundation of the Gospel of Jesus Christ.
Dr. Moss III is an honors graduate of Morehouse College who earned a Master of Divinity from Yale Divinity School and a Doctor of Ministry from Chicago Theological Seminary. Dr. Moss is an ordained minister in the Progressive National Baptist Convention and the United Church of Christ. He is on the board of The Christian Century Magazine and chaplain of the Children's Defense Fund's Samuel DeWitt Proctor Child Advocacy Conference.
The Rev. Dr. Marsha Foster Boyd
Founder and Chief Consultant of Catalyst Connections Global LLC
The Rev. Dr. Boyd is a retired ordained minister in the African Methodist Episcopal Church. She is currently a consultant specializing in higher education and in empowering global communities through leadership development, training, and coaching services. She is also Board chair of the Marcus Foster Education Institute (Oakland, Calif.), named for her late father. Dr. Marsha Foster Boyd was named president emerita of Ecumenical Theological Seminary, upon her retirement from the Presidency in 2013, after seven years of distinguished service. Prior to her presidency, she was director of accreditation and leadership education at The Association of Theological Schools; associate professor of pastoral care and counseling at United Theological Seminary; and academic dean at Payne Theological Seminary. In each of these positions, Dr. Boyd has been the first African American woman to serve.
Dr. Boyd received her bachelor's in elementary education from Tufts University, her master of divinity with a concentration in pastoral care and counseling from The Interdenominational Theological Center, and her PhD in religion and personality from the Graduate Theological Union. She was awarded the honorary degree doctor of humane letters (LHD) by Payne Theological Seminary in recognition of her illustrious and influential career in theological education.
The Rev. Dr. Jonathan Weaver
Senior Pastor, Greater Mt. Nebo African Methodist Episcopal Church, Bowie, Md.
The Rev. Dr. Weaver has a strong belief that one's Christian duty should encompass community outreach. Under Dr. Weaver's leadership, Greater Mt. Nebo's ministries have had many successful projects in the community. His sense of community transcends the borders of Prince George's County, Maryland, and the borders of the United States. As a result of his willingness to extend his gifts and talents to those abroad, Greater Mt. Nebo has developed close ties in many parts of Africa, partnering with a village in Benin to build a school there, and most recently supporting the construction of churches in Rwanda, Namibia, and The Democratic Republic of The Congo.
Dr. Weaver is a graduate of St. Mary's Seminary and also earned a bachelor's in business administration from Washington University, a master's in business administration from the Harvard University Business School, and an honorary doctorate from the Sojourner-Douglass College. He currently serves as the national president of the Collective Empowerment Group, formerly known as The Collective Banking Group, an ecumenical association composed of nearly 500 churches in seven states and the District of Columbia, engaged in economic empowerment initiatives through partnerships with banks and other businesses in their communities.
MUI 2018 HONOREES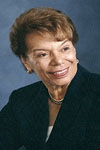 Cecile Springer, MURP
President and Founder of Springer Associates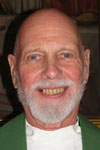 Dr. Jared Jackson
Professor Emeritus of Church History of Pittsburgh Theological Seminary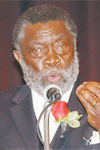 The Rev. Dr. Johnnie Monroe
Pastor Emeritus of Grace Memorial Presbyterian Church

QUESTIONS
Contact Brenda N. Henry at bhenry@pts.edu or 412-924-1362.