Home > Carnegie Mellon University and the Henry L. Hillman Foundation today announced the creation of the Henry L. Hillman Presidentís Chair at CMU
GIFTS ESTABLISH HENRY L. HILLMAN PRESIDENT'S CHAIR
Drawing on Endowment of More Than $30 Million, the Chair Will Fund Special Efforts To Attract and Support Faculty and Students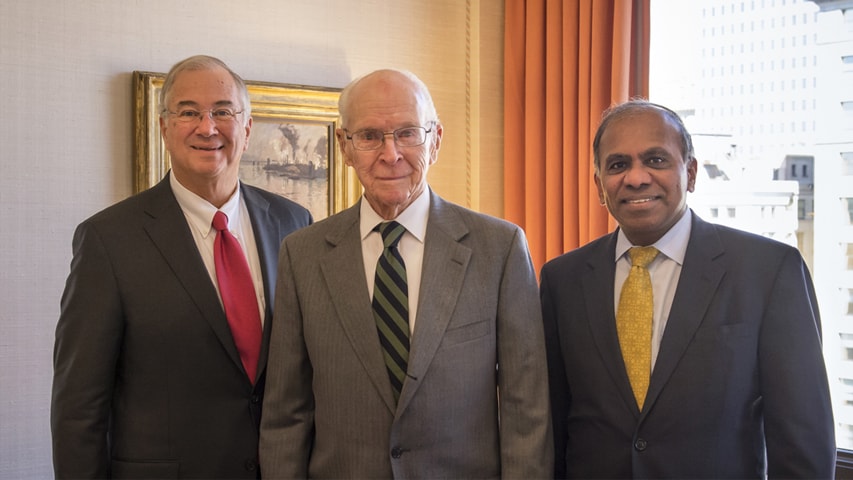 Henry Hillman (center) with CMU Chairman of the Board James Rohr and President Subra Suresh.
Carnegie Mellon University and the Henry L. Hillman Foundation today announced the creation of the Henry L. Hillman President's Chair at CMU.
The chair will be supported in perpetuity by an endowed fund of more than $30 million, including a new anchor gift of $11 million from the Henry L. Hillman Foundation. Together with other gifts from Pittsburgh-area philanthropies, more than $20 million of the fund has been raised so far. Fundraising efforts will continue until the target endowment is reached.
The endowed chair will generate a payout each year, to be used at the president's discretion in support of faculty and student needs. The inaugural holder of the chair will be President Subra Suresh.
"It is an honor and a privilege to have this chair carry the name of Henry Hillman, who has been an icon of investment, philanthropy and community leadership in the Pittsburgh region and beyond," Suresh said. "This gift provides a permanent stream of critically needed resources to attract and support talented faculty and students. That is an essential responsibility for me and for all presidents who follow, and I am deeply grateful to the Henry L. Hillman Foundation for this support."
Suresh said that the discretionary fund would offer the president greater flexibility to move quickly to attract and retain world-class faculty, to help recruit a diverse cohort of talented students, to fund special initiatives in key areas of need for students and faculty, and to seed innovative new ideas, activities, initiatives and projects across the campus.
Last spring, Suresh announced separate $1 million challenges to the Dietrich College of the Humanities and Social Sciences and to the College of Fine Arts — launched and matched by $1 million each in endowed funds from the President's Office — to support faculty research, performance and creative work, bridging gaps where other sources of funding are not readily available. An endowed chair will allow Suresh and future presidents to take similar measures that address needs outside established budgets.
"With its outstanding student and faculty talent and ability to deploy its world-renowned research and expertise toward making Pittsburgh a leading smart city, Carnegie Mellon not only fulfills its mission as a university, but also acts as an engine of economic growth for Pittsburgh and the entire region," Henry Hillman said. "We view this as an investment in the future, a way to help fuel and accelerate the momentum generated by Carnegie Mellon and Pittsburgh in recent years. We are delighted that this chair will help support Dr. Suresh's vision and work for Carnegie Mellon."
"We view this as an investment in the future, a way to help fuel and accelerate the momentum generated by Carnegie Mellon and Pittsburgh in recent years." — Henry Hillman
Hillman's Pittsburgh-based investment firm took early stakes in Kohlberg Kravis Roberts and Kleiner Perkins, along with real estate, private equity and venture capital projects. In 1964, he established the Henry L. Hillman Foundation, which is devoted to improving the quality of life in Pittsburgh and Southwestern Pennsylvania.
Hillman's earlier gifts to Carnegie Mellon include $10 million in 2008 to support the Hillman Center for Future-Generation Technologies, a structure that serves as the main entrance to the School of Computer Science; $5 million in 2014 to support the BrainHub research initiative; and $2.75 million in 2014 to support Traffic21 andMetro21.
Hillman said that discussions with President Suresh have been going on for more than a year about ways to further enhance Carnegie Mellon's economic, intellectual and cultural impact in the Pittsburgh region.
"Henry is known nationally for innovation, flexibility and support for new ideas," said James E. Rohr, chairman of the CMU Board of Trustees. "With this endowed chair, the Henry L. Hillman Foundation gives Carnegie Mellon the flexibility to move quickly and take advantage of important opportunities in an increasingly competitive academic landscape. This is particularly timely for CMU, where the pace of change continues to grow."
Source: CMU