Home > Campaign Underway to Rehab August Wilson's Childhood Home
Campaign Underway to Rehab August Wilson's Childhood Home
Photo Credit: Bill Wade, Pittsburgh Post-Gazette-
So, who is August Wilson and why is a Community named after Daisy Wilson?
August Wilson after receiving a Heinz Award August Wilson was an American playwright who chronicled a century of African American life in an unprecedented ten-play cycle. Wilson won many major drama awards, not the least of which were two Pulitzer Prizes and a Tony Award for his plays. He has a theater named after him on Broadway in New York City. Wilson influenced many artists onstage and off and continues to inspire young artists who are introduced to his works in American middle, high school and college classrooms. There is so much to learn about the life and legacy of August Wilson and you can do so here, in the new documentary,"August Wilson: The Ground On Which I Stand," which premieres on PBS American Masters February 20, 2015, 9pm EST.
Daisy Wilson is August Wilson's mother.
In 1996, at the National Conference of the Theater Communications Group,
August Wilson said the following of his Childhood Home:
"Growing up in my mother's house at 1727 Bedford Avenue in Pittsburgh, Pennsylvania, I learned the language, the eating habits, the religious beliefs, the notions of common sense, attitudes toward sex, concepts of beauty and justice, and the responses to pleasure and pain that my mother had learned from her mother, and which you could trace back to the first African who set foot on the continent."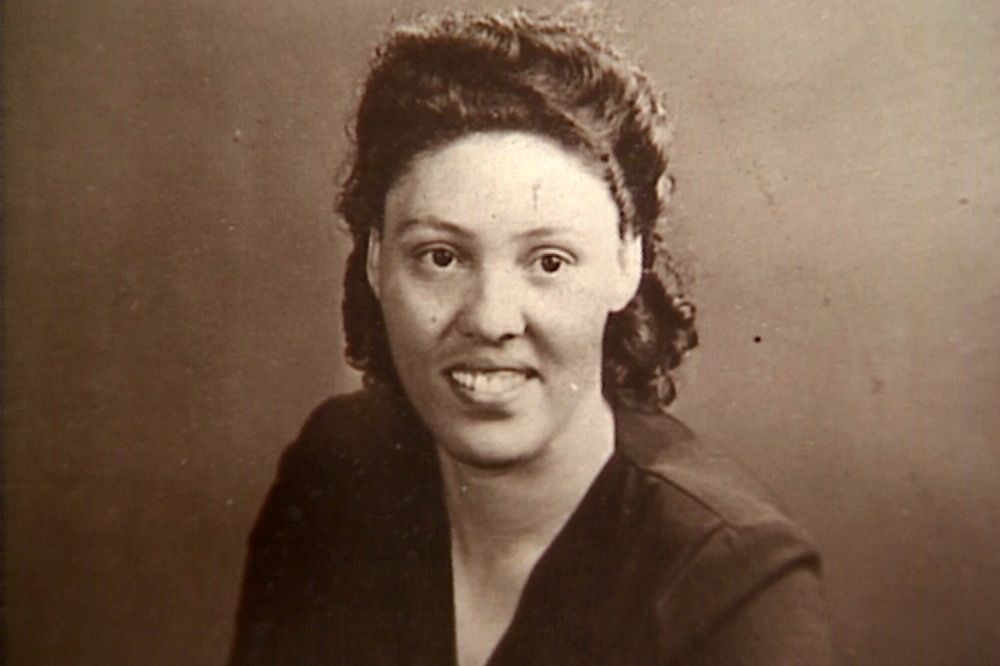 This is
1727 Bedford Avenue in 2007,
August Wilson's Childhood Home and the future home of the Daisy Wilson Artist Community, with both buildings and the land to the right.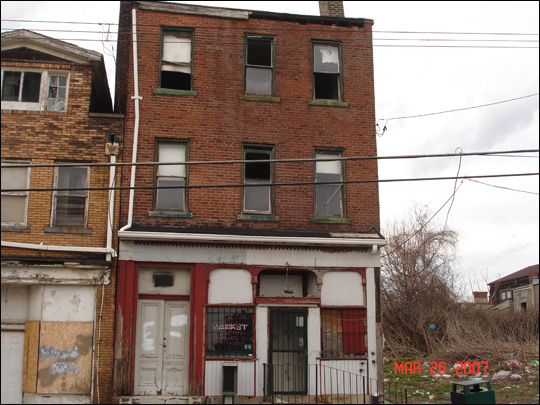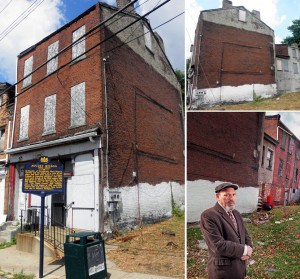 The Buteras, an Italian family, owned a watch shop in the yellow structure to the left and aJewish family owned Bella's Market on the right and main structure. The Wilson family lived in the far back, in only two rooms.
Click here
to read more about the history and structure of the buildings.
It has been eight, long years of hard work; but now we are ready to complete the renovation and launch this arts community. It will include artists residencies, master classes, special guests, performances and more.
If you can donate as little as $5, become a member at $25 or make an even larger contribution, you will help realize a multitude of dreams to restore the August Wilson Childhood Home and help continue a wonderful legacy in the arts. We can't do it without you, at this point.
Here is what we have done thus far, beyond basic site control:
For a few decades, Wilson's sister, Freda Ellis gave tours of "August Wilson's Hill District" to students, photographers, news reporters and commentators such as Ed Bradley and she is pictured, here, giving a tour to Preservation Pittsburgh, with Architect, Jeff Slack of Pfaffman and Associates, in the background, the company that would later work directly on the project and join the board. Her daughter, American and Africana Studies Scholar, Dr. Kimberly C. Ellis, as well as Historian, Dr. Larry Glasco and then Theater Critic, Chris Rawson, would take their classes on routine tours of the Historic Hill District neighborhood. Each time, we lamented the condition of August Wilson's childhood home. When Wilson's nephew, Paul Ellis, esq., finally secured site control, we could get to work trying to preserve and restore the structure. This has been a team project from the beginning, with many different players, at varying times.
Some highlighted moments are as follows:
On
May 30, 2007
, we unveiled the
Pennsylvania State Historic Marker
at the August Wilson Childhood Home, in partnership with the Heinz History Center.
It was a huge community celebration.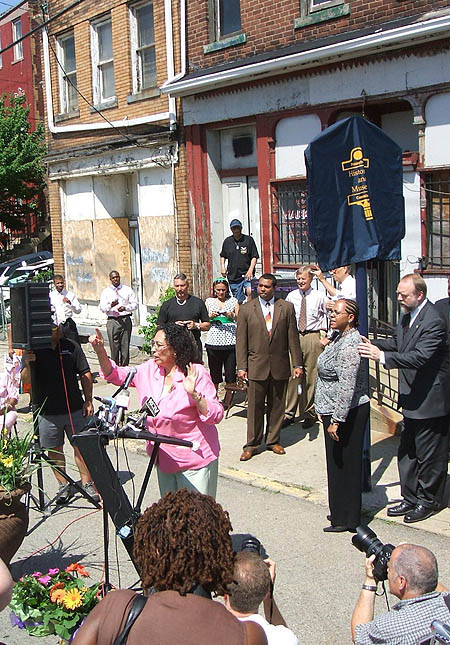 Photo: PPG
On
February 26, 2008
, the
City of Pittsburgh approved the August Wilson Childhood Home as an Historic Landmark
and in
December 2008
, Architects, Pfaffman and Associates completed the
Feasibility Study, which you can read here
.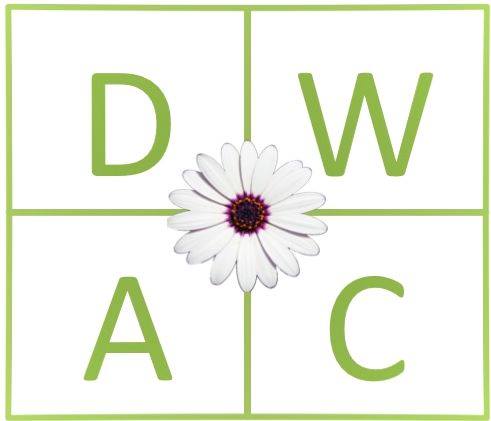 In
2010
, the Daisy Wilson Artist Community became a non-profit organization
. Thus far, the organization has received $35,000 from
The Pittsburgh Foundation
for a feasibility study, $40,000 from
The Heinz Endowments,
$35,000 from McAuley Ministries to build the fundraising pot to save the house and $5,000 from
City Councilman R. Daniel Lavelle's office
for a business plan, which was developed in part by Evan Stoddard's Community and University Honors class at Duquesne University. Most recently, we received $23,000 from a
Pennsylvania Keystone Preservation Grant
to complete the brick and masonry work necessary to renovate the facade of the building (please see below). When you donate to the Daisy Wilson Artist Community, every dime is well-spent and utilized.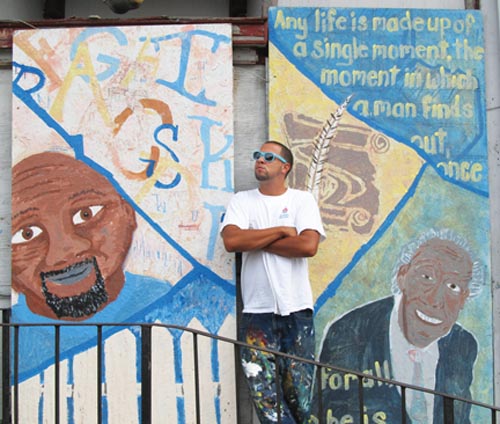 Photo: Pittsburgh City Paper
In
2011
, muralist, Kyle Holbrook and Dr. Kimberly C. Ellis, Wilson's niece and head of the Historic Hill Inistitute, partnered with the City of Pittsburgh Summer Youth Employment Program to create the
"Broken Windows Project," turning blighted, vacant properties into artwork
throughout the Historic Hill District, each reflecting the varied histories of the neighborhood. The August Wilson Childhood Home was one of the sites.
In
2012
, we laid a new roof and stabilized the building.
On
April 30, 2013
, The August Wilson Childhood Home was placed on the
National Historic Registry of Places.
This is an extremely important honor and opens up a world of possibilities.
We were all very excited about it!
You can read the nomination
here
.
The work on the home has continued.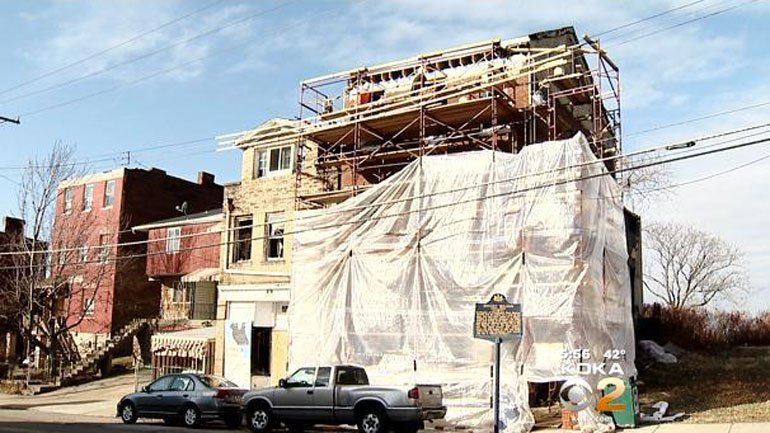 We are delighted to have worked with
Shelton Creating Associates
, a partnership with the Pittsburgh Trade Institute, to do the brick and mortar facade work, further stabilizing the building.
In continuing the spirit of August Wilson, we worked with this company because they hire former offenders
and give them life skills for sustainable employment to lead quality lives.
This is what the
August Wilson Childhood Home
looks like today, in
February 2015
:
We have a
website
that was set up by Duquesne University students as a part of our signature partnership.
Meet the Board.
Meet the Architects.
We are on
Facebook.
And we hope we are in your hearts. If you donate today and spread the word, we can meet our goals, swiftly.
YOU can help complete the renovation of the August Wilson Childhood Home and launch the Daisy Wilson Artist Community. And every little bit will help.
Our Goal
In order to complete the structure and begin offering substantial programming for the Artist Community, we need your financial assistance.
We have done our homework.
We have put in the hard work.
Now, we need you to help us complete our goal to finish renovating August Wilson's Childhood Home, provide opportunities for musical, literary, visual and dramatic artists and serve as an accessible and substantial asset for the Historic Hill District Community.
Click Here for more details from the Go Fund Me Campaign